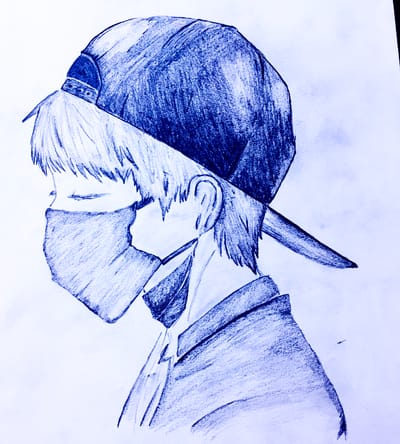 VISUAL ARTS
Even in isolation the cave paintings communicate the essential components of our existence.
I do not know the dimensions of our recent isolation. I can tell you that our students never missed a day to create, to visit a museum to study the progress of love, contemplate a day while drawing a page in our Quaranteenagers Graphic Novel or synchronously draw a self portrait on zoom. We were all alone, together in an online crucible of digital platforms and phenomena. In these rooms we learned that the creative mind is a collective that extends itself beyond the limitations of a pandemic. Poetic expressions and perceptual inferences are intimately shared and enduring. I love these shared perspectives: the
mystery and melancholy
in the streets, the self portrait with an anxious gaze. Our young creative souls explored every avenue of their confines, and in their documentation of this journey, they will be prepared, ahead of it, never behind it, communicating, in their own respective confines, what makes us all human.
Please enjoy each student's portfolio. They individually selected work from their time at home.
Warmly,
Ben Patrick, Artist in Residence
Cover Page by Sara Rawal
Image on right by Gabe Taylor
MUSIC
The 2020 Spring semester brought huge changes to the VCS Music program. All music classes were converted to ensembles: Middle School Concert Band, 9th/10th Grade Chamber Ensemble and 11th/12th Grade Fusion Ensemble. We spent our 5 weeks on campus building ensemble chemistry and repertoire, and preparing for what would have been our debut performances at a Jazz Symposium on April 1st.
When VCS shifted to distance learning we were able to keep good progress with individual lessons and weekly group check-ins. While missing the opportunity to play together in the same room, ensemble members were able to record themselves at home and then I spliced together the recordings in Garageband. These recordings are just a snippet of the awesome work we accomplished this semester and I'm excited to build on this progress in the Fall.
Enjoy the recordings from our Concert Band (full group), Chamber Ensemble (duet/small group), Fusion Ensemble (Contract Honors solo recordings) as well as page of Owen's Senior Project Compositions and Lily 's original compositions. Click the "i" next to the recordings for personnel listings and other info. Thanks!
Matt Davide, Music Teacher